Drypool Bridge is a Scherzer Rolling Bascule Bridge in Hull, England, United Kingdom. It is one of the city's most iconic bridges, as though it is beaten by Scale Lane, which it neighbours. It connects the west side at Drypool to the east side of the river near Salthouse Lane, and provides a direct link on to Clarence Street which leads on to Dansom Lane, Holderness Road e.t.c. It is used by road and pedestrians. Going east to west, it provides a link into town via Alfred Gelder Street and and on to High Street.
Description
[
]
Drypool Bridge almost seems to glow in the dark with its bright-looking yellow paint, which it was painted with during its John Venn inspired refurbishment with his circle diagram painted onto the bridge, which was completed in 2017. The bridge was opened in 1961 and replaced an old swing bridge, which was also called Drypool Bridge, or 'Salthouse Lane Bridge', which opened in 1889. Originally, Drypool Bridge was blue like North Bridge.
Infrastructure
[
]
As far as infrastructure goes, Drypool has your typical infrastructure - on either side there are two Forest City halogen wigwags for road traffic. Two Page Signals are used on the side of the control room within the tunnel. However, on the other side there are unknown miniature signals for pedestrians, but these used to be your typical Page Signals. There are two barriers either side of the bridge to cover the road as well as two smaller ones that cover the pavements. It also has your typical Clifford and Snell or E2S sounder.
As noticed in https://www.youtube.com/watch?v=tQ3S2wo-vh8, one of the red light bulbs has blown. It is unknown if this has been fixed yet, or if the bulb has been replaced.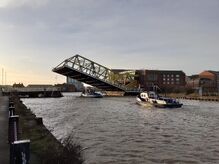 Faults
[
]
According to movablebridges.org.uk, the bridge has observed faults in the past, mostly being the bridge actually opening with no warning while pedestrians and traffic have been on the bridge! No bridge operators were in attendance when this happened. It is unknown when this last happened or if the cause was found and resolved.
Stuart Gilson
[
]
In February 2012, Hull man Stuart Gilson went missing and wast last seen crossing Drypool Bridge. A month later in March 2012, he was found in the Humber Estuary. A plaque was put up near the bridge in his memory, and reads:
'It was said one night
I walked this way
But on the path I did not stay
I give these railings to one and all
And I hope that, if in danger,
They stop your fall'
This was not included on this wiki to in any way disrespect Gilson or his family, but rather in his memory.
R.I.P. Stuart Gilson