North Bridge is a Scherzer Rolling Bascule Bridge in Kingston-upon-Hull, England, United Kingdom. It is another one of the most well-known bridges in the city, and has a lot of history. It connects the west side on George Street to the east side of the river which leads on to New Cleveland Street, Salthouse Lane, Witham and finally on to Dansom Lane and Holderness Road. Going from east to west, it provides a direct link into town via George Street and to Ferensway, Spring Bank and Beverley Road via Freetown Way.
Description
[
]
North Bridge is a good-looking blue bascule bridge, with its wrought iron latticework making it look even more stylish. It was designed by T Thomas, City Engineer, built by Widnes Foundry and opened in 1931, and for a long time carried tram and trolleybus transport. On the east side near the control rooms, there is a clock tower on the bridge. It is a Grade II listed building.
Infrastructure
[
]
Much like Drypool Bridge, North Bridge has two Forest City wigwags at either side, two Page Signals at each side to warn pedestrians and two barriers to block the road. The east side near the control room has two small barriers on either side to block the pavement. On the west side, the Page Signals are associated within the same poles as the wigwags, and there are single barriers to block the pavement. Just like Drypool Bridge, there are Clifford and Snell or E2S type sounders.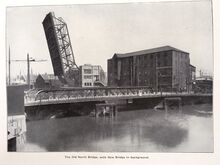 Faults
[
]
Unlike Drypool Bridge and Sutton Road Bridge, North Bridge is currently the only Scherzer Rolling Bridge on the River Hull which has yet to experience any faults, such as the bridge opening by itself without warning or operators in attendance.