Scott Street Bridge (also known as Jenning Street Bridge) is a defunct water hydraulic double leaf bascule bridge in Hull, England, United Kingdom. It used to connect the west side on Wincolmlee to the east side on Jenning Street, which would lead on to Lime Street, New Cleveland Street, and on to Dansom Lane. Going east to west, it provided a connection to Wincolmlee, which going left would take you to North Bridge and going right would take you to a junction with Green Lane and Lincoln Street. Scott Street is directly opposite the bridge which is where it gets its name from.
Description
[
]
Scott Street Bridge is rather old and rusty, because of the amount of time it has not been maintained. A lot of graffiti has been painted on to the bridge.
The bridge was built in 1901, and was functional for a long time before it was permanently raised in 1994. This was due to the bridge not being able to take the weight of traffic that used it, having started to deteriorate in the early - mid 1980s, due to it being such an old bridge.
Several suggestions were made about the bridge's future, to demolish it, refurbish it, replace it, however none of these took place due to the cost of any suggestions mentioned. And since it has been given a Grade II listed status and is a landmark, it does not look to be going anywhere any time soon.
Banksy Mural
[
]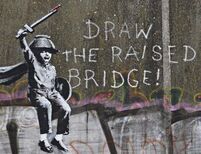 In 2018, a mural appeared on the east bank side of the bridge, which appeared to be a child holding a wooden sword and written next to it 'DRAW THE RAISED BRIDGE!'. It attracted a lot of tourists and became iconic for a short period, before it was removed by Hull City Council in October 2019.
Infrastructure
[
]
Since the bridge was raised, most of the infrastructure has been removed, however some black and white poles which used to have wigwags still remain. It is known before the bridge was raised, infrastructure included two barriers at either side of the road, four halogen wigwags and a bell rather than a sounder.
Other Info
[
]
There is not much public transport that goes near the bridge, however this is recommended: Get any public transport which stops at North Bridge, or Charlotte Street. Turn left on to Wincolmlee and carry on until you see Scott Street Bridge, which is near the 'Maizecor' mill.
Faults
[
]
In 1994 the bridge was stuck open permanently, probably due to it being so old.
Demolition
[
]
As of April 2020, it is set to be demolished in the coming weeks.